Raak Geïnspireerd | De Indrukwekkende Mekong Delta Experience
Boomgaarden, rijstvelden en ontelbare moerassen, de Mekong Delta heeft het allemaal. Vanaf de stadsgrenzen van Ho Chi Minh Stad tot aan de grens van de Golf van Thailand in het zuidwesten is deze Delta te vinden. Dit argrarische wonder is verantwoordelijk voor meer dan 33% van de voedselgewassen, terwijl het maar 10% van heel Vietnam bevat. De voedselrijke bodem biedt ruimte aan onder andere kokospalmen, boomgaarden en suikerrietplantages en de gehanteerde manieren van landbouw staan bekend als een van de meest duurzame manieren van landbouw.
Verrassend genoeg heeft de landbouw de Mekong Delta pas recentelijk in haar greep gekregen. Onder Cambodjaanse heerschappij was de (destijds) dunbevolkte regio veelal zichtbaar als moeras, maar zodra de Fransen voet wisten te zetten in de Delta ging het bestuur radicaal om. De vruchtbare grond werd afgetast en door massale landbouw werden er in die periode grote winsten geboekt. De Vietnamese boeren werden gedwongen om hard te werken in de landbouw, ondanks dat hun koloniale gouveneurs hier goed voor betaalden.
Een bezoek aan de Mekong Delta is met name speciaal vanwege de diversiteit in de gehele regio. Kinderen die op gigantische waterbuffels rijden, boeren die in het ondergelopen land druk in de weer zijn, marktlui die met zichtbaar plezier hun fruit en groenten aan de man brengen, monniken die met serieuze blikken in de schaduwen van de pagodes lopen en de prachtige bruggen die het gebied rijk is. Het zijn stuk voor stuk bijzondere kenmerken van dit veelzijdige gebied. Ook de in de oorlog onmisbare Cu Chi Tunnels zijn een bezoek waard.
Zoek een activiteit / Bekijk al deze activiteiten
1 day starts at $ 99 - Join in group All incl. Food + Drinks + Vespa + Tour guide + Helmets + Raincoats + Insurance + Experienced drivers Unique Vespa Motorbike tour | Saigon used to be the capital of South Vietnam and was renamed Ho Chi Minh City after the war. However, locals still know the city as Saigon. The city is no longer an official capital, yet it thrives as the country's largest city with over 8 million citizens. Saigon is a buzzing hub of culture, cuisine, and business. Our Ho Chi Minh City tours give you local insight to this bustling city, or you can even escape the city limits into the Mekong Delta. We offer serveral departures per week but places fill up quickly so please book in advance! Check availability now: Contact us Are you ready for the "A Glimpse of the Mekong Delta Experience"! Introduction Take A Glimpse of the Mekong tour to go beyond the concrete jungle and away from the hustle & bustle of the city of Saigon while stopping to see how the locals live & eat in the countryside. Day 1: Ho Chi Minh City - Mekong Delta Go beyond the concrete jungle of Saigon and onto the back roads and red dirt trails of the countryside. You will cross dozens of bridges over many river tributaries, ride on a river ferryboat, and cruise through a vibrant bustling riverside market. Zoom through the bright green rice paddies while stopping to tour local cottage industries such as incense making & rice wine production, and sample some Vietnamese specialty food and drinks. Feel a world away from the city on this off-road ride. This tour requires an adventurous spirit and a strong backside. Experienced and skilled riders can drive their own Vespa or automatic scooter on this Mekong Delta day tour, or you sit back & relax on the back of a restored vintage Vespa while we take you through the beautiful scenery. The tour comes to an end with lunch at a restaurant where you can cast a line and catch a fish while you enjoy a cold beer in the shade. We run daily from 8:00 AM - 2:30 PM. Add a cooking class with traditional Vietnamese dishes or upgrade your experience to our 2 day,1 night Wild-Life Mekong adventure? Contact us at info@friendstravelvietnam.com and we'll make it happen!
van USD 99
1 day starts from $ 29 All incl. Transport + E.S. Guide + Fees + Water The beautiful Cao Dai Temple and the invisible miracle of Cu Chi! The Great Holy See Temple, built in 1926, is considered one of the most striking structures in all of South-East Asia. It is the headquarters of the unique Cao Dai sect, a religious hybrid, incorporating Buddhism, Christianity & Confucianism. Above the entrance is the all-seeing holy eye, a symbol of the sect. Visitors will attend the midday ceremony extravaganza, to witness the daily mass held by the Cao Dai followers which is a fantastic experience. Located 60km from Ho Chi Minh City, Cu Chi is now a popular spot for both Vietnamese & foreign tourists alike. The 200km network of tunnels became legendary because of their vital role in the war. In their heyday, the tunnels were fully functioning underground cities including numerous trap doors, specially constructed living areas, storage facilities, weapons factories, field hospitals, command centers & kitchens. Are you ready for "The Cao Dai and Cu Chi Tunnels Experience"! With this trip, we have built our reputation! Brief Itinerary Day 1: Ho Chi Minh City - Cao Dai - Cu Chi Tunnels - Ho Chi Minh City Our mini-van departs around 8am towards the Cao Dai Temple. You will be guided around, informed by our tour guide about the fascinating history of this religious area and there will be time to explore the Temple by yourself. We continue our tour in the afternoon and before entering the tunnels visitors can watch a short introductory video, showing how the tunnels were constructed. You will be guided around the former heart of the tunnel network afterwards. You'll spend the next hour exploring the tunnels before having a refreshing tea and cassava, which was eaten by the guerrillas during the war. See the traps they used, experience how it is to be in one of their small shelters, try to find a hidden tunnel door yourself and wonder around the heavily bombed area. It's even possible to shoot with an automatic weapen, like the AK47 or M16, if you want to. Any question will be answered by your English speaking tour guide. We'll be heading back to Ho Chi Minh City in the late afternoon.
van USD 29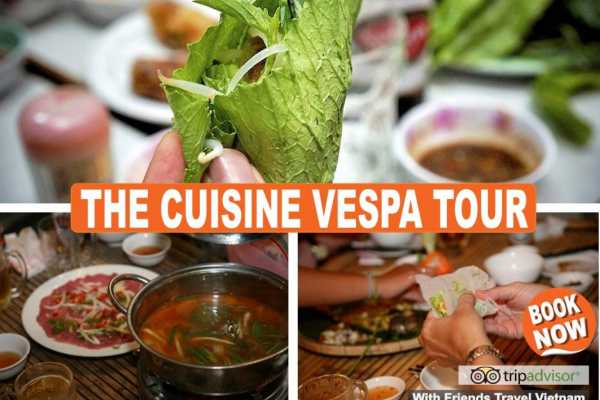 1 day starts from $ 92 - Join in group All incl. Food + Drinks + Vespa + Tour guide + Helmets + Raincoats + Insurance + Experienced drivers Unique Vespa Motorbike tour | Once a busy trading port on the Silk Road, the UNESCO recognised ancient town of Hoi An is now very popular with visitors keen to see the beautifully kept trading houses and temples from another era, and delve into the vibrant food culture. The surrounding area boasts beautiful beaches, rivers, waterways, mountains, and a stunning rural countryside of lush rice paddies, fertile farmland and colourful villages, with a history dating back over a thousand years to the Cham Kingdom's holy land at My Son. We offer serveral departures per week but places fill up quickly so please book in advance! Check availability now: Contact us Are you ready for "The Cuisine Vespa Tour"! Introduction Hoi An is a foodie's delight. Immerse yourself in the vibrant local dining scene at 5 different street food & restaurant visits on our Streets & Eats tour. Day 1: Hoi An Starting out at our central Hoi An café, sample the delicious local street food delight that is Banh Can while watching the streets & stalls come to life and sipping a cocktail. After the first taster, head out on the Vespas to try the famous 'White Rose' and fried wontons in town. We then head to lantern lit An Hoi Islet and jump in a local boat for a slow ride along side the ancient town to to Cam Nam Island where we join the locals for a seafood starter overlooking the Thu Bon River as the sun sets on Hoi An & enjoy a few cold beers. A leisurely drive along the banks of the river and through the alleyways & streets takes us to a lively local restaurant where we cook a hotpot at the table and learn the art of wrap 'n' roll – Vietnamese style! A short ride through the busy streets and alleys takes us to our last port of call, and a recent addition to Hoi An's vibrant dining scene, a modern Vietnamese restaurant nestled in the rice paddy fields, where we tuck into some awesome BBQ specialties, char grilled DIY style at our table! As is customary, cold beers are consumed, and we finish with the delicious dessert of Banh Flan, a light version of crème caramel.
van USD 92